Flat Classroom® Projects
---
---
Project Overviews
---
The Flat Classroom® Project

The
Flat Classroom®
Project
is a global collaborative project that joins together middle and senior high school students (typically Grade 9-12, 14-18 year old). This project is part of the emerging tend in internationally-aware schools to embrace a holistic and constructivist educational approach to work collaboratively with others around the world in order to create students who are competitive and globally-minded. The project was co-founded by
Vicki Davis
(Westwood Schools, USA) and
Julie Lindsay
(now in Australia) in
2006
. The
Flat Classroom Project 2006
is was featured in Chapter 13, 'If it's not happening it's because you're not doing it', of the latest edition of Thomas Friedman's book,
The World is Flat
' upon which it was based. (pages 501-503)
One of the main goals of the project is to 'flatten' or lower the classroom walls so that instead of each class working isolated and alone, 2 or more classes are joined virtually to become one large classroom. This is done through the Internet using Web 2.0 tools such as Wikispaces and Ning.
The Project uses Web 2.0 tools to make communication and interaction between students and teachers from all participating classrooms easier. The topics studied and discussed are real-world scenarios based on '
The World is Flat
' by Thomas Friedman.
More Information:
Go to the
Flat Classroom
Website
for Full Information, Videos, Samples and Information to Share with Your School.
Twitter:
@flatclassroom
---
---
Digiteen™ and Digitween Projects: Digital Citizenship with Worldwide Collaboration and Local Action

Flat Classroom®
offers TWO projects that focus on digital citizenship skills and immersion into a connected, collaborative learning environment with a local, community-based action project as an outcome. Digiteen Project is for students 13 and older, Digitween project is for students generally younger than 13 years old.
Students are introduced to information through a series of videos selected by their school (there are several free options), research current digital citizenship trends and news and compile a collaborative report with other students around the world, and make fact based recommendations in their offline action project at their local school to promote safe, appropriate online behaviors.
This powerful method of teaching encompasses twenty first century skills, character education, global awareness, writing, and multimedia and is customizable to the individual school.
Applications are taken
year round for the TWO projects run each year (Feb-May) and (Sept-Dec) Join us!
More Information:
Go to the
Digiteen™ Website
for Full Information, Videos, Samples and Information to Share with Your School.
Twitter:
@digiteen
---
---
The Eracism™ Project: A Global Collaborative Debate Promoting Cultural Understanding

This project truly bridges the divide in many ways, from the creation of the project (See the
original student video
) - the
global voting of this project
as the "winner" and student planning of the presentation topic (occurring August 2009) - students from around the world have been involved in this project from the moment it was conceived in a human brain. This project bridges the divide between culture, schools, countries, and even bandwidth by providing low-bandwidth methods for participants.
This is a middle school and high school debate project (typically Grade 6-12, 11-18 year old) promoting cultural understanding which was first piloted in September-December 2009 and now runs twice a year.
More Information:
Go to the
Eracism Website
for more information.
Twitter:
@eracismproject
---
---
The NetGenEd™ Project

In this project, students will study and "mash up" the results of the 2012 Horizon Report from the
New Media Consortium
and
Educause
and Tapscott's book
Grown Up Digital: How the Net Generation is Changing Your World
. Students will study the current research and create wiki-reports with their student partners around the world analyzing current trends and projecting future happenings based upon this collaborative analysis. This project is managed by the students who assume roles such as project manager, assistant project manager, and editors of the various wikis.
After compiling their wiki reports based upon current research, and encouraged by "expert advisors" (subject matter experts in the industry), students will then create a video in one of two strands. Video strand I competition will be the NetGenEd Challenge where students are asked to envision the future of education based upon current global technological trends.
For More Information:
NetGenEd
Twitter:
@netgened
---
---
Flat Classroom® Conference: DO, ACT, BECOME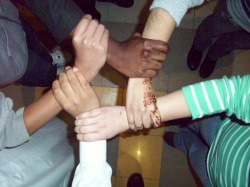 The aim of the Flat Classroom Conference is to bring together geographically dispersed participants with a view to sharing ideas, using mobile computing, learning about Web 2.0 communication and collaboration tools in a flattened world, and, in the case of the workshop, working on a project theme that can be transplanted back into their home school. The selected theme will inspire unity and action as well as fostering continued connections after the actual event. It is envisaged this will improve global understanding and cement friendships for ongoing collaborations. It is also envisaged that this will provide an opportunity for students and teachers together to 'create the future' through exploration of a global or social issue and developing an 'action' plan to work globally to overcome this.

This unique conference uses a project-based learning format mixing educators and students to understand and use leading technology tools and collaborative methods to envision and create the future of education. Participants emerge having planned and understanding the project-based collaborative nature of truly flattening the classroom as well as having many contacts and friends. This is a conference where you DO, ACT, and BECOME.

Past Conference Locations include Doha, Qatar and Mumbai, India with a student/teacher workshop held in Hong Kong.
Flat Classroom Conference 2011 was held in
Beijing China
. Meet us at the W.A.L.L. - We All Lead and Learn.
The next Flat Classroom Conference 2013 will be held in Yokohama, Japan.

Applications for host schools for workshops and the biennial conference in cities around the world are taking on a year round basis by contacting organizers.

For more information: http://www.flatclassroomconference.com
Twitter announcements are made through the @flatclassroom project account. Hashtag #flatclass

---
---
Flat Classrooms™ Learning Network for Educators

Join educators who understand and work with this global collaborative model of teaching on the Flat Classrooms™ Ning. Meet, find people to collaborate with and discuss what you're doing.
For more information:
http://flatclassrooms.ning.com
---