About our Organizers

Project organizers are full time teachers who often include their own classes in these projects. Julie and Vicki also offer some workshops, an annual Flat Classroom conference, and keynotes at various events, schedule permitting.

Julie Lindsay

Originally from Melbourne, Australia, for the past 15 years
Julie
taught and led the use of technology in schools in Zambia, Kuwait, Bangladesh, Qatar, and China. She is now based in Australia as a consultant, presenter and workshop leader and is currently Director of Learning Confluence, Director and co-founder of
Flat Classroom®
and Global Collaboration Consultant for
THINK Global School
. She is also co-author of
Flattening Classrooms, Engaging Minds: Move to Global Collaboration One Step at a Time
, Pearson 2012.
Julie is adept at designing and customizing learning experiences for all ages, including cutting edge events such as the ground-breaking
Flat Classroom Conference
that include both students and educators together. She has delivered workshops and organised conferences in various parts of the world. She is an ADE (Apple Distinguished Educator), and currently an
ISTE Ambassador
and
ISTE
International Representative on the Board of Directors, Member of Horizon Report Board of Advisers 2008-2013, and a member of the Leadership team for both the
Learning 2.012 Conference
in Beijing 2012 and the
Global Education Conference
2010-12. This year Julie started her EdD with the University of Southern Queensland with a focus on effective pedagogy for collaboration. Julie blogs at
E-Learning Journey's
. More information can be found on
Julie's digital portfolio
.
Twitter
Google+
Website
Contact Julie.
---
Vicki Davis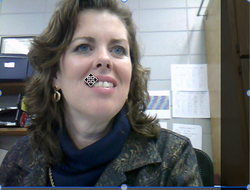 Vicki Davis
is a teacher and the IT director at
Westwood Schools
in Camilla, Georgia. Vicki co-created four award winning international wiki-centric projects, the
Flat Classroom™ project
, the
NetGenEd™ Project
, the
Eracism Project™
, the
Horizon project,
and
Digiteen™
with teacher
Julie Lindsay
, currently in Bejing.
These projects have linked more than 3200 students from both public and private schools from nineteen countries. These collaborative projects harness the most powerful technology tools available while operating on a minimal budget. Vicki has been featured in various media including Thomas Friedman's book,
The World is Flat
, Don Tapscott's
Grown Up Digital,
the Wall Street Journal, and the Boston Globe.
Vicki blogs at the
Cool Cat Teacher blog
which won the 2008 Edublog Award for Best Teacher Blog. She was named a
pioneer in Open Source Virtual World Technology
in October 2009. Vicki is a Google Certified Teacher and Discovery S.T.A.R. Educator. She lives in Camilla, Georgia with her husband and three children.
Full bio information.
---