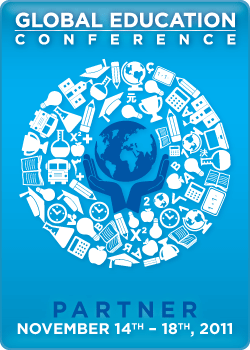 The Global Education Conference is a week-long, world-wide event featuring sessions and
keynote addresses focused on education technology and global classroom initiatives.
This event brings together educators and innovators from around the world and will be held Monday, November 14 through Friday, November 18, 2011. The entire conference will be broadcast online using the Blackboard Collaborate platform (formerly known as Elluminate/Wimba).
The Global Education Conference is a collaborative and world-wide community effort organized
by the Global Education Collaborative and Classroom2.0. Our mission is to increase opportunities for globally-connecting education activities and initiatives. The event is solely focused on sharing ideas, examples and organizations related to connecting educators and classrooms around the world. We support the development of multicultural awareness and global competency in
students and teachers, and also want to bring attention to social justice issues.
Last year's conference featured 387 sessions and 60 keynote addresses from 62 countries with
over 15,000 participant logins. Sessions were held in multiple time zones and multiple languages
over the five days, and are currently archived as a standing educational resource at
http://
globaledcon.weebly.com/recordings.html.
For further information, please join our network at
http://globaleducationconference.com
and
follow us on Twitter (@GlobalEdCon) and using the hashtag #GlobalEd11.